Another World is Possible
Workshop by Trine Wendelboe
TIME: Sunday at 09:30
VENUE: North Wing, DNS
(20 participants)
BACKGROUND
"This is the time reflect on the issue of "The World We Have & the World We Want".
The climate crisis, the biodiversity calamity, the shift towards more nationalistic agendas and in a number of countries [and insert more worrying issues here]  present serious challenges for humanity. How do we deal with it?
CONTENT
Trine will talk shortly about the situation in the USA. Then, together with the participants in the workshop map the out the situation in different parts of the world. This is what we have.
Then, the workshop will reflect on what "Another World" is, and how to make it possible,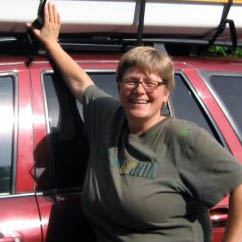 Trine Wendelboe
Director for One World Center in Dowagiac, Michigan, USA.
A teacher since the age of 18, Trine has worked at the Seaman College in Nyborg, later in Boserup and now at One World Center in Dowagiac, USA.
I think knowledge and understanding about smaller and bigger issues in our lives and in the world are important preconditions for setting the direction for our actions leading to a better future for the planet and people.